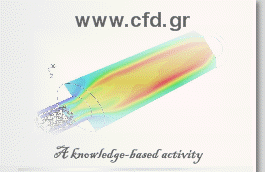 Dr Spyros Kamnis (PhD,CEng): received his PhD in CFD modelling from Aston University (UK)(2007) and his Msc in thermal power and fluids engineering from the University of Manchester Institute of Science and Technology UK (UMIST) (2003). He currently works for Pyrogenesis.sa and University of Southampton as a senior research scientist. Research focuses on the Combustion, Computational Fluid Dynamics, FEA Modelling and Two Phase modelling of thermal spraying and surface coating technology.
Dr Nicola Zeoli (PhD,CEng): is a mechanical engineering graduate from the University of Rome, La Sapienza, Italy. His research area is in multiphase fluid flow with application to the power plant and powder industry. He is currently a PhD researcher in the Aston University of Birmingham, UK. In 2005 he participated in a new grid generation code working with NURBS (TFI grid generation, PDE grid generation). He is currently working on the design of an isentropic plug nozzle for melt atomization.
Dr Konstantinos Papadikis (PhD,CEng): holds a BEng in Mechanical Engineering from Aston University in Birmingham and an MSc in Advanced Mechanical Engineering from the University of Warwick. He is currently a PhD researcher in CFD Modelling in multiphase flow and fluidization. His main focus is the simulation of a bubbling fluidized bed for fast pyrolysis of biomass.
Dr Nick Tsioumanis (PhD,CEng): received his Masters degree in low speed aerodynamics from the University of Manchester ( 1997). He is a PhD researcher and he currently works for Marshall Aerospace. His field of expertise includes: 3D modeling, CFD modeling of combustion systems. .
Past experience of our team includes research in the following areas:
• Computational Fluid Dynamics (CFD): numerical methods & grid generation
• Unsteady aerodynamics in aerospace, automotive and Sport applications
• Heat and mass transfer for industrial applications
• Two phase flows
• Break up modelling for thermal spray
• Simulation of industrial flows
• Fluid-structure interaction
• Flow visualization and data processing
• Scientific programming, development and testing
Copyright © http://www.cfd.gr
Home | Services | About Us | Contact Us