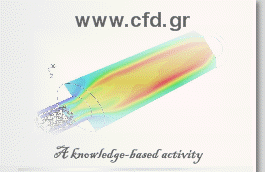 We offer analytical and design services in the areas of fluid analysis and thermo fluids analysis. Analyses are performed for a variety of industries and applications. We stay abreast of the state-of-the-art in the rapidly evolving fields of mathematical modelling and computational analysis by in-house development and close contacts with universities and professional organizations.
You may need our help if:
You donít have a qualified CFD engineer and you have a project that has a section with CFD simulation requirement
You have an urgent CFD problem that came up
You are not sure which CFD code will work best with you
Our experienced research group is ready to work on your specific project to meet your tight deadlines.
Our team provides support in a Variety of Fields:
-Fluid Dynamics
-Heat and Mass Transfer
-Turbulence
-Combustion and Chemical Processes
-Environmental Pollution
-Coating Formation
Copyright © http://www.cfd.gr
MasterTemplates Home | Services | About Us | Contact Us